The producing team at
Paradox Studio and Productions,
is excited to announce the completion of
Dave Blackburn's dream project.
 
Winner: Australia Film Festival – The King and Me – Honorable Mention – feature documentary
We wish to thank all of Dave's
Supporters, Sports and fast pitch fans,
Maccabiah members, and the Jewish Community.
The Story
"The King and Me"
An Autobiographical Documentary Film Featuring Dave Blackburn
A story of inspiration, competition, team spirit
and one man's conquest to triumph over tragedy.
Dave Blackburn is a unsung, six-time, medal-winning, Jewish sports hero.
For 25 years. Dave was the starting pitcher/anchor for,
"Team USA," the Maccabi USA's fast-pitch softball team.
"Team USA," competes every four years in the
"The World Maccabiah Games," also known affectionately
as the Jewish Olympics. The games are held every 4 years in Israel
and have grown to become the 3rd largest sporting event on the planet.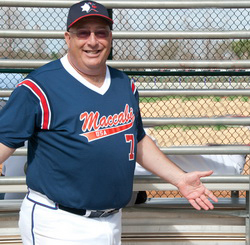 the trailer
This documentary promotes awareness within the Jewish community, that excellence in sports is a reasonable, possible, goal to achieve. We all know kids today can use a healthy, wholesome activity to pursue other than, Halo or Grand Theft Auto.
Team USA brought home, one bronze, one silver, and 4 gold medals for America in the quadrennial games over a 25 year period. Quite an accomplishment by any athletic standard.
The Maccabiah Games are the third largest sporting event on the planet.  The general population of the USA is largely out of the loop on the accomplishments of these athletes. They surely deserve recognition for their dedication, sacrifices, and tribulations. They've represented their country with honor and have brought back gold to the US. This story opens the possibility of more exposure about their acomplishments.'
Fast pitch softball, it's a game that's played on the weekends, in almost every small town in America, teams are sponsored by local businesses and taverns, but it's invisible to the mainstream sports networks. Fast pitch needs a publicist and this could help.
People don't think Jews play sports. It's untrue. Hopefully this will put that myth to rest. Sandy Koufax, Mark Spits or Hank Greenberg, ring any bells?  I know who's Hank Greenberg…
This story encourages pride in personal heritage, People should be proud about where their roots are anchored in history and geography. Dave found his lineage in Israel, he was grounded and enriched by the experience.
Despite the heat and passion of competition,"The King and Me", shows the deep bonds of friendship, that develop between competitors, through the mutual love of a game.
Nissim,"The Hermit of Herzliya", proves, there are still free thinkers. His 40 years of determination show what can be accomplished, by sheer will, and back breaking work. He truly is an artist, of the highest magnitude.
---
Posting this Link: to your social network can help raise awareness
in all the Jewish/sporting/documentary communities.
Rally behind our effort to share Dave's engaging story.
"The King and Me"  
"The Maccabiah spirit burns deeply in my heart,"
Dave Blackburn 1960-2014 rip
athlete, technical visionary, producer
Curt LaFurney 1958-2019 rip
editor, director, writer, producer